Last week we got Baby Gap's crib delivered & couldn't wait to put it together! We were hoping it wouldn't be too difficult, and luckily we were right. It took us about 2.5 hrs total, but ain't it a beauty?!
We found the model at Babies R Us but they didn't carry it in white. SO we found it online & *bonus* it was cheaper! Love that.
We got the mattress delivered yesterday, so now all we need is the bedding. I'm pretty sure about the one I want, it's just the committing & actually buying it part I haven't done yet :)
We should be getting her dresser delivered next week, as well as the glider chair & ottoman.
Little by little, piece by piece, this room is turning into our Baby Girl's NURSERY!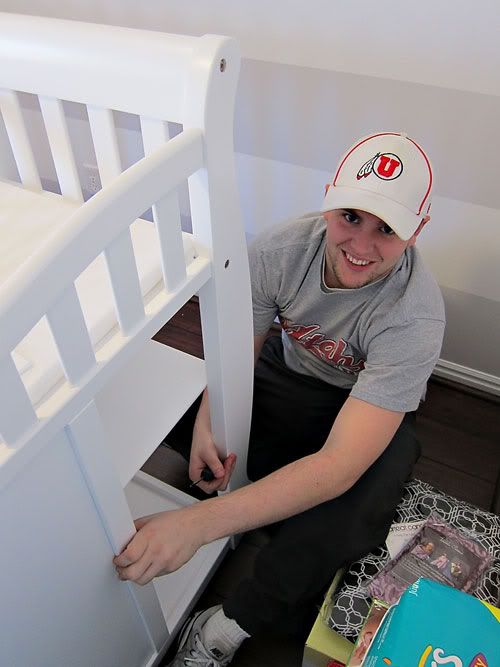 I never did a separate post about painting the walls & that's mainly because all my photos of it were on my phone which a few weeks ago got wiped clean :( I was dumb I hadn't set up iCloud yet so I lost all of my photos, etc.
My Dad helped me with the painting, he is amazing!
I painted two coats of white prior to, and then pretty much in one day we nailed out the gray stripes. We used Frogtape (love this stuff) & measured and taped off every bit of the walls. Honestly, it was the taping part that took the longest. But it was OH SO WORTH IT. I am in love with how it turned out & luckily Tyler loves it too. And even better for him, he didn't have to do ANY of it - haha.
We also went & registered at Babies R Us. We were so surprised at how much stuff you really need for a baby. We didn't scan half the stuff we could've, just the essentials, and it was still a TON of stuff! We had a fun day completely centered around our little one, it was exciting to think about her being here to use all of the stuff we were registering for. I am getting SO impatient already & I still have a possible 14 weeks of waiting! I just keep telling myself that it will be here before I know it, which I'm sure when she's here that's what it will seem like!
...And last but not least... I was able to snag this gorgeous diaper bag from the Petunia Pickle Bottom Outlet sale that they do I think twice a year. I was so scared that I'd get it & it wouldn't be as cute as I imagined, but I LOVE it & I am so happy I went with this one. I had been looking all over for one but just couldn't commit. I knew I wanted a Boxy Backpack because I think the changing pad feature on this bag is PERFECT. So yay! I got it for $70 off the original price! :) It was worth it even though I sat on my laptop for 2.5 hrs constantly refreshing the webpage because it kept crashing due to high volumes of traffic! Tyler can vouch for me - I was getting beyond frustrated! haha - those darn pregnancy hormones!